Calçada Guesthouse is a bed and breakfast located amongst the oldest streets in Tavira, Eastern Algarve, Portugal. Calçada meaning 'traditional decorative pavement made with cobble stones' is a beautiful accommodation hidden away, in a small residential square behind the main praça within the heart of the historical centre of Tavira, one of the most architecturally attractive towns in the Algarve. The B&B comprises six individually decorated bedrooms all with en-suite wet rooms.
The process of building Calçada Guesthouse has been an arduous journey but one that has been well worth the wait. During the three year process we worked alongside archaeologists and whilst excavating, amongst other interesting discoveries, we found the Iron Age city wall of Tavira. So as not to disturb the ancient wall we amended the layout and subsequently one of the bedrooms now sits alongside the original Iron Age wall of Tavira. The site holds an important history dating back from the Iron Age through the Phoenician and Roman eras to the modern day.
The cafés, restaurants, museums, galleries, castle and Roman bridge are all within a few metres walk. Only a few hundred metres away is the Summer ferry embarkation which has frequent daily crossings to the beautiful golden beach of Tavira Island, rated as one of the top 10 beaches in the world by the Lonely Planet travel guide.
'[Tavira] is arguably the Algarve's prettiest town, and exudes an authentic Portuguese charm' The Telegraph
'On the South East Portuguese coast, this city [Tavira] has a magnificent beach that goes for several miles. And the best of all is that you catch a boat to get there'
Lonely Planet, Travel with Children
Come and discover the delights of Tavira whilst relaxing in the comfort of Calçada Guesthouse.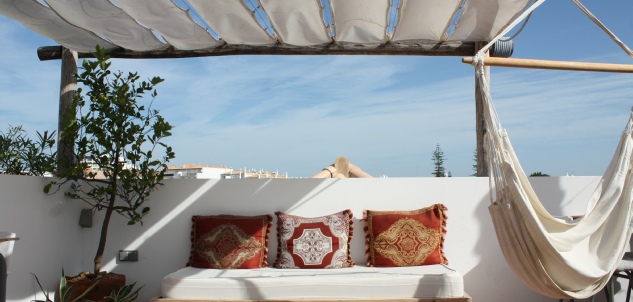 Calçada Guesthouse, Calçada Dona Ana 12, Tavira 8800-308, Algarve, Portugal
+351 926 563 713 / 927 710 771
Nº Registo Nacional 44486/AL